Dear colleagues!
We congratulate you with recently passed First Joint Congress of Russian Obstetrical Anaesthesiologists and Intensivists Association (ROAIA) and Obstetric Anaesthetist's Association (OAA)!
St. Petersburg welcomed the guests of the Congress with excellent weather, and this sunny mood was transmitted to all participants of the event! The international forum exceeded all expectations of both listeners and speakers. Guests of the Congress were able to see and hear experts who are involved in the development of international clinical guidelines.
We have to recall the words of Peter the Great from poem 'The Bronze Horseman' of the great Russian poet Aleksandr Pushkin
'Here, by the new for them sea-paths,
Ships of all flags will come to us'
The event was attended by about 500 delegates from 52 regions of the Russian Federation, as well as international experts. These days the Congress was attended by speakers from all over the world: UK, USA, Israel, France, Belgium, India and Poland. But an even greater discovery was to see at the Congress participants from South Africa, Holland, Belgium, France and Israel – they were regular physicians who decided to make such an interesting journey to hear and see the lectures of one of the most famous specialists in the field of obstetric anesthesiology.
All three days of the Congress were held in one breath. The hall was full of guests from all over Russia: from Kaliningrad to Vladivostok! The lectures were devoted to the treatment of massive obstetric haemorrhage, anesthesia and postoperative analgesia of cesarean section, anesthesia of labor, intensive therapy of preeclampsia and prevention of complications in obstetric anesthesiology. It seemed that there was not a single topic that was not touched by the lecturers in their speeches. Moderators of sessions had a hard time, because at the end of each lecture block, participants could ask questions, and there were so many of them that even 40 minutes to discussions were not enough.
The first day began with two opening speeches. Presidents of Russian Obstetrical Anaesthesiologists and Intensivists Association (ROAIA) and Obstetric Anaesthetist's Association (OAA) appealed to the audience with words of welcome. Robin Russell began his speech with a solemn and surprisingly interesting presentation dedicated to Geraldine O'Sullivan that, in fact our Congress devoted to her memory. Obstetric Anaesthetist's Association hold the memory of this great woman and a talented doctor sacred.
Undoubtedly, interest was aroused by the first speech of Filippov Oleg, Deputy Director of the Department of Medical Care for Children and Maternity Service, Ministry of Healthcare, Russian Federation. Participants could learn about the causes of maternal mortality associated with both anesthetic and obstetric complications.
Robin Russell (UK) reminded to the participants that an obstetric patient is a separate world, with its own laws and regulations and its physiology differs from an ordinary patient and therefore requires a special approach during General or spinal anesthesia, hemostasis control and infusion therapy. Bulat Tuyakov (Poland) told his colleagues about the modern possibilities of anesthesia and the use of an ultrasound machine to perform various types of analgesia after cesarean section.
Reports of Ekaterina Upryamova (Russia) and Robin Russell (UK) echoed with each other, because they were united by a common theme "Anesthesia of delivery" This topic caused an interesting discussion, among the experts themselves and among the audience. But all were trusted in one, childbirth needs to be anesthetized, the early start of analgesia does not have a negative effect on the process of childbirth.
There is a tendency to use low concentration solutions in the form of patient-controlled epidural analgesia (PCEA) using a programmed periodic epidural bolus (PIEB). It is the latest technology may become the gold standard. Ekaterina Upryamova demonstrated new approaches to inhalation analgesia using Sevoran which caused an interesting discussion in the hall. Of course, this method will not become a routine practice in the arsenal of an obstetric anesthesiologist, but it takes place in case of contraindications to neuroaxial methods and gives an opportunity to adequate anesthesia of delivery.
The speech of Alexander Ioscovich (Israel) expresses well, current trends in the treatment of post-puncture headache, the possibilities of its treatment and prevention.
The section dedicated to sepsis left no one indifferent. Modern principles of intensive and antibacterial therapy were perfectly demonstrated by high-class specialists particularly by the supernumerary chief anesthesiologist and resuscitator of the Department of healthcare of Moscow Denis Protsenko. Alexander Kulikov (Russia) once again reminded to his colleagues that obstetric sepsis has its own peculiarities and often the danger lies in the late decision on surgical treatment.
Those listeners who came on the second day at 8 o'clock in the morning, did not regret that they woke up so early. The lecture of Mark van de Velde, Vice-President of the Belgian society of Anesthesia and resuscitation, devoted to the most important works in the field of obstetric anesthesiology for 2017-2018, did not leave anyone indifferent. Within 30 minutes, the guests of the Congress were able to know the most relevant and promising research of experts around the world. Participants also learned about the current trends in obstetric anesthesiology which could change our daily practice.
Continuing the modern motives, Mark van de Velde (Belgium) spoke about how you can change your practice during General anesthesia for с-section. The use of modern relaxants and technical equipment for intubation can reduce the frequency of difficult and unsuccessful intubations in obstetrics.
Lawrence Tsen (USA) once again reminded colleagues that the correct use of uterotonics can reduce the frequency of uterine atony, the most important thing is to properly dose these drugs.
The special attention should be given to presentations on intensive therapy of massive obstetric haemorrhage. Perspective on postpartum hemorrhage was shown through the eyes of an obstetrician and gynecologist - Barinov Sergey (Russia) and anesthesiologist - Ioskovich Aleksandr (Israel). Experts agreed that it is necessary to use hardware blood reinfusion (cell saver technology). The need for the infusion of tranexamic acid should not be in doubt, especially after WOMAN research. The use of the seventh activated factor (Coagil 7) is also necessary in intensive care of massive obstetric haemorrhage, especially in conditions of limited access to blood components (FFP, platelet mass, cryoprecipitate) in obstetric departments in Russian Federation.
Discussion continued on the sidelines and during breaks. Physicians from all over Russia shared their experience and discussed with colleagues the issues of anesthesiology and intensive care in the daily practice of the doctor.
A clinical case of women with atypical hemolytic uremic syndrome that was described by Andrey Yakubov (Russia), demonstrated once again how multifaceted could be that pathology, how hard it is to make a correct diagnosis, how important is to start treatment timely.
The final day of the Congress was full of reports on the prevention and treatment of venous thromboembolic complications with a reminder of the mandatory prevention of venous thromboembolic complications in the postpartum period on high-risk mothers. Issues of intensive care of preeclampsia, HELLP syndrome, obstetric atypical hemolytic uremic syndrome were discussed in detail during presentations and discussions.
However, not only our foreign friends read their reports at the event. Speeches of specialists and experts from Russia deserved special attention because they were full of information that was close to the realities of obstetric anesthesiology in Russia. The lecturers gave practical recommendations on the implementation of issues related to epidural analgesia of labor with uterine scar (Konstantin Bozhenkov), hypotension therapy in spinal anesthesia during cesarean section (Alexander Ronenson), modern possibilities of predicting complications in childbirth with the help of new research methods (Evgeny Degtyarev).
It should be noted that in many ways the position of foreign guests coincided with the recommendations of ROAIA in the field of anesthesia and intensive care in obstetrics, and it once again approves that the Association doing a lot of work, creating and updating recommendations, trying to fill them with most up-to-date data that can find practical application in obstetric anaesthesiology.
The rich exhibition pleased our participants with novelties of medicines, each physician could find for himself something new important and interesting. Representatives of the companies gave positive feedback on the organization of the Congress and expressed their readiness for further cooperation and participation at meetings of Russian Obstetrical Anaesthesiologists and Intensivists Association.
As a result of the Congress, representatives of Russian Obstetrical Anaesthesiologists and Intensivists Association decided to continue integration with the world's professional medical communities and to develop training of specialists involved in anesthesia and intensive care in obstetrics and gynecology.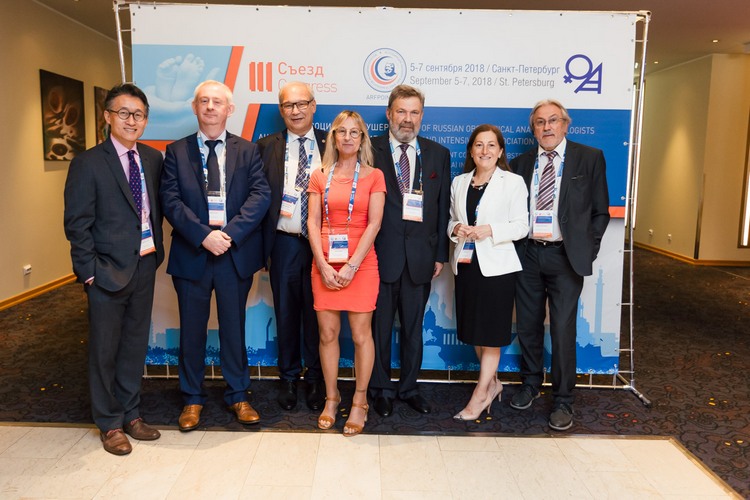 We would like to thank once again all the participants of the Congress, the organizing Committee and our foreign guests! All these days we were participants and creators of this historical event which we hope, will be the first step on the way to joint achievements!